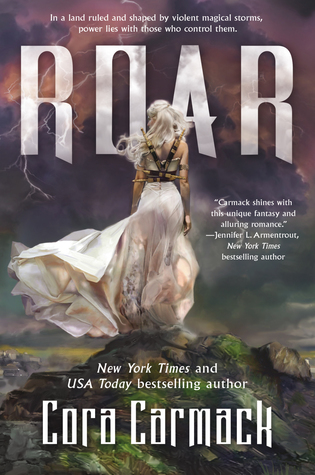 In a land ruled and shaped by violent magical storms, power lies with those who control them. Aurora Pavan comes from one of the oldest Stormling families in existence. Long ago, the ungifted pledged fealty and service to her family in exchange for safe haven, and a kingdom was carved out from the wildlands and sustained by magic capable of repelling the world's deadliest foes. As the sole heir of Pavan, Aurora's been groomed to be the perfect queen. She's intelligent and brave and honorable. But she's yet to show any trace of the magic she'll need to protect her people. To keep her secret and save her crown, Aurora's mother arranges for her to marry a dark and brooding Stormling prince from another kingdom. At first, the prince seems like the perfect solution to all her problems. He'll guarantee her spot as the next queen and be the champion her people need to remain safe. But the more secrets Aurora uncovers about him, the more a future with him frightens her. When she dons a disguise and sneaks out of the palace one night to spy on him, she stumbles upon a black market dealing in the very thing she lacks—storm magic. And the people selling it? They're not Stormlings. They're storm hunters. Legend says that her ancestors first gained their magic by facing a storm and stealing part of its essence. And when a handsome young storm hunter reveals he was born without magic, but possesses it now, Aurora realizes there's a third option for her future besides ruin or marriage. She might not have magic now, but she can steal it if she's brave enough. Challenge a tempest. Survive it. And you become its master.
Title: Roar (Stormheart #1)
Author: Cora Carmack
Published: June 13th 2017 by Tor
Genres: high fantasy, romance, young adult, magic
---
My thoughts:
To be honest with the previous books of the author I had bad experiences. Neither of them took me off my feet but the cover of this book just bought me. It's beautiful and inviting so after I read the synopsis I got into the mood to read it. Even if with a bit of reluctance but decided to give it a chance.
The book started out really strong and promising but unfortunately along the way it kind of falls apart. I don't mind the fact that it uses couple of ideas that you can basically find in every YA fantasy. namely the runaway princess, arranged marriage, some kind of outstanding ability or the lack of it on the part of the main character I think if they work why not use them and also there is not as many unique ideas in the world as many books come out nowadays. If it's written creatively and well then I read it without a complaint. So I didn't have any problem with this and I even found the world building and the whole magical thing created around the basic story interesting and well thought out. My problem rather was with parts of the plot line and the personality of the main character.
The world the author created for this story is quite impressive but not developed to the smallest detail. I would have liked if I get to know more about the hierarchy of things and the political parts of the little kingdoms. The world building mostly concentrates on the magical element of things and even if it's intriguing I felt sometimes it overwhelms the plot I thought some of the political or conquering parts would have been more interesting. At least for me.
The plot itself is pretty complex mainly because of the various points of views all off them representing a different storyline, place or side of the political hierarchy. You could even say that it's a bit all over the place but I liked it, didn't exactly understand the importance of all of them yet but liked it nonetheless.
However I also think that the whole storyline got a bit boring around the beginning where it started to concentrate more strongly on Roar journey with the hunters and namely more on her feelings and inner turmoil and not on the action part of her learning. Around the last couple of chapters it started to get more interesting again but it was too little too late in my opinion.
There are quite a few different characters in the story and almost all of them have unique past and personalities. Ironically I liked almost all of them expect Aurora. Lucky me.
Aurora just pissed me off. Yes I normally would like a strong character that is willing to sacrifice things to learn and became better but she just didn't do it for me. I saw her as a slightly pampered princess who desperately wanted to meet the expectations of her mother but instead of fighting to find a way to do it she sat back and let herself be alienated from others and did everything to hide from her shortcomings. Instead or learning politics and leadership to compensate her lack of magical talent she only read about the basics of a magic she supposedly never going to have  and rode her horse. I liked that she learned to fight and protect herself but she is not outstanding in that aspect either. Instead she waited until the last moment and run away to find a solution when it was already late. Not to mention she doesn't considers the consequences for her kingdom, her mother, her friend she just thinks that if she can somehow learn the magic she never had then everything is going to be alright. I also didn't like her naivety or innocence. I mean she sees a handsome guy and she became a blushing, awkward, fumbling girl who can't even function anymore. Also she didn't have one subtle bone in her body. She is just wallowing in her emotional turmoil all over the place. She also annoyed me how she wanted to be a master hunter in one day, she is rash and pushy. I just simply didn't like her.
The thing is that I found the other characters more interesting. I think that all of the hunters has really interesting personalities and their stories about their past was quite interesting. My favorite character probably was Cassius. He is string willed, wild and has a bit of a scary, aggressive streak but he also honestly wanted Aurora and liked her from the beginning. He also was mostly honest with the girl and tried to help her out as much as he can. I liked the banter between them and I liked his personality over all. I think he has a lot of potential for future books.
Locke wasn't a bad character either but he was a bit too sweet for my liking. He is strong but too soft towards Roar/Aurora. Somehow she mesmerized him. For a minute I was afraid of a love triangle but in the end it didn't came to fruition but in the next books anything can happen.
I'm not in love with this story but apart from the struggle of the main character it was enjoyable. I probably will read the next book because I have hopes for it based on the events that happen in the background.
There are two quotes, the first one perfectly describes Roar personality the second one the opposite of the truth in my opinion:
"I think you're reckless. You get an idea, and you commit to it fully. But you don't think through all the options. Instincts are important, but not when they're untested and ill informed. You've done your best to show no fear since you left Pavan. I want to know what it was about what I just said that shook up your façade."
"…But those words were my greatest hope when I was young. To find answers for the unanswerable, a path through the impossible."