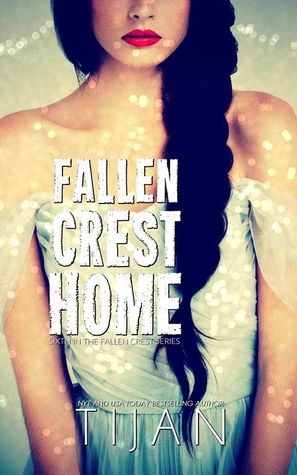 It's been years since my mother was in my life. I healed. I learned to accept love. I lived. That's all done. She was away, and now she's back. I avoided her for a year and a half, but I couldn't hide anymore. Mason had an internship in Fallen Crest, so we headed back for the summer. And when we got there—no one was prepared for what happened.
Title: Fallen Crest Home (Fallen Crest High #6)
Author: Tijan
Published: April 17th 2017 by Tijan
Genres: contemporary romance, new adult
---
My Thoughts
Fallen Crest is one of my all time favorite series and Tijan in general is one of my auto-buy authors. With the 6th book we are nearing the end of the story of Sam and the Kade boys and in any other cases I would be down that one of my favorites is coming to a finish line but in this case I would say it's time.  At least based on the last couple of books.
This one is going to be a short review because I can't really say anything new about this book that I didn't mentioned in my reviews of the previous books. Your main question I probably why I think it's time for this series to end especially since I absolutely loved the first two. Well for a while now I feel like the books only circling and picking up the same issues that were mentioned, broke done and some of them even resolved in previous books. But the author always finds a way to dredge them up again and again which is starting to get annoying and boring. At least for me.  I feel that between the plots of the different books there is only a little bit of variation and I don't like it. I also am waiting for the emotional charge, the angst, and the feels that sold me the first book to rear its head again but it's not happening.
Then there is the thing,  the characters are in their early twenties in this story which would suggest a level of maturity for them. Well I didn't really hoped much for Logan but Mason and Sam could grow up a little bit. They still act like some teenagers and the consequences of their actions didn't register for them. I was just shaking my head constantly; I just couldn't understand how they can be so stupid in some cases. But one thing goes for them; it's not entirely their fault in this story, they are victims of jealousy.
Sam is struggling more than usually but instead of talking about her worries she hides from them which cause her to torture herself with her doubts. Her issues predicted most of the events from the last chapter and it was like watching a train wreck.
I love Mason, he is the level headed and patient brother, who creates most of the plans. But in this story he had too much on his plate and kind of loses control.
Logan is kind of the background of this story and Taylor presence pulls the threesome apart even more.
Unfortunately I struggled with this story a bit but still can't wait for the next one. I'm partial to it so it got more stars than I would give another book in similar case. Although I really love the cover, it's quite different from the previous ones and has a more cheerful aura.
My Favorite Quotes From It
"Too bad it's not Logan's bridal shower. This game would have questions like Who offered to do anal first?" We looked at each other and said at the same time, "Logan."
"Logan stood up, too. Everyone paused and looked at him, and he held up his hands. "I wanted to fit in. Everyone's standing."