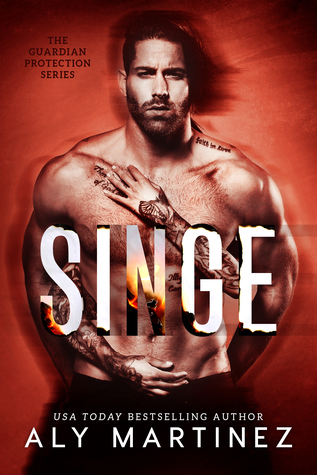 Title: Singe
Author: Aly Martinez
Series: Guardian Protection #1
Genres: Romance, Competorary, NA, Suspense
❖ Add to Goodreads ❖
She was my nightmare. Every time I closed my eyes, I watched her fall into that inferno. Over and over, I failed to save her. I hadn't been able to reach her, and the guilt only burned hotter over time. Four years later, I was the unreachable one. Heroes aren't always saints. Sometimes, we're nothing more than jaded sinners driven by sleepless nights and hearts full of darkness. And then I met her. She was a dreamer who managed to soothe my scars and heal my wounds. But, as the flames closed in around us, I feared I wasn't the right man to save her. That is until I realized she was the one woman I'd burn the world down to protect.
My Thoughts
I really like Aly Martinez works. True she has a knack for writing about people who survived traumatic events but she does it exceptionally.  She created a fantastic story once again but I have to be honest the first thing that grabbed my attention about this book was the cover. It's simple beautiful, eye catching and inviting.
The plot is flowing freely and effortlessly, it's really great and intense. I personally think this story of her is as depressing, heavy as her usual once and I'm glad for it. Don't get me wrong it's emotional and has depth but it didn't impact me with such negativity as I usually expect from her books. She has a phenomenal style and an extended imagination which she uses in a talented way.
Rhion and Jude have a connection thanks to a mutually traumatic event in the past. This particular experience is not only bounds them together but define a big part of their personality too. Rhion is a sweet, slightly crazy but strong character a survivor but I felt like she thinks 1 traumatic event was enough for her so she lives her lives without taking any kind of possible risk. She builds her existence on avoiding. She lived in a protected bubble before the accident and after it she created an excuse and a completely different bubble for herself and thanks to her inheritance she can afford to live in a different world. I felt that some of her excuses, issues were really unreasonable. But she is funny so I liked her character even with her quirks.
Jude on the other hand is drowning in guilt. He collected it for years and now when he has a chance to get back to his old self he overreacts everything thanks to it. He is caring, strong and good at his job.  He acts like a jackass most of the time but slowly he and Rhions work through their issues. Since both of them have the complete opposite opinion about the accident they kinda help one another to meet in the middle.
There is a fantastic supporting team behind them also with the Guardian protection team but there is not much insight to their characters stories so I didn't get the dynamic I usually love in groups like this. It's a bit of a shame especially since the next books in the series is going to be about them so I would have liked to know a bit more about them.
This is a lovely and passionate story which I enjoyed immensely but I couldn't give it a perfect score because it was a bit predictable in the conflict department and also Jude attitude annoyed me at occasions.