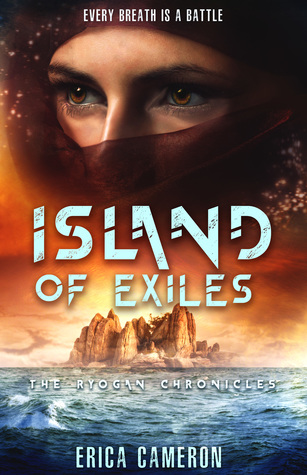 Title: Island of Exiles
Author: Erica Cameron
Series: The Ryogan Chronicles #1
Genres: Fantasy, YA, Romance, High Fantasy
❖ Add to Goodreads ❖
In Khya's world, every breath is a battle. On the isolated desert island of Shiara, dying young is inevitable. The clan comes before self, and protecting her home means Khya is a warrior above all else. But when following the clan and obeying their leaders could cost her brother his life, Khya's home becomes a deadly trap. The only person who can help is Tessen, her lifelong rival and the boy who challenges her at every turn. The council she hoped to join has betrayed her, and their secrets, hundreds of years deep, reach around a world she's never seen. To save her brother's life and her island home, her only choice is to trust Tessen, turn against her clan, and go on the run—a betrayal and a death sentence.
My Thoughts
I received an ARC of this book from NetGalley in exchange of an honest review.
This story is an exhilarating adventure in a harsh, brutal, and terrifying world where a girl have to reevaluate her priorities and everything she thought she knows. I really liked it even if it's not always easy to follow.
I will be honest sometimes it was hard to follow the events and thanks to the unique terminology and intricate magical system and it took me for a while to get into the story but once I reached that point nothing could divert my attention. Where this book shines the most is the incredible world building. It's really different and new compared to everything you ever read; also it's extremely detailed and perfectly fleshed out that. The author created a whole new society, magical system, hierarchy and even sexualities and genders and above all everybody is just so accepting. I really enjoyed discovering the different parts of this world and this exploring journey provides plenty of entertainment. But it's not all because the plot itself is also exciting.
Khya the heroine is a trained warrior and over all kick ass character. She is really duty oriented and lives by the teachings of their clan. Which is simply states that the clan before everybody or anything else. However she has quite a strong bond with his brother. So when something serious happens to him she starts to question her priorities. I liked how strong and resilient she is but not exactly willing to sacrifices the ones she cares about the most.
Then there is Tessen, Khya long time rival who takes up the role of the annoying pest who doesn't want to go away. He constantly bothers her, he is persistent like that.  But as they spend more and more time together they start to form some kind of understanding, bond. They create a pretty funny duo and I enjoyed their little squabbles.
Overall this book is a fascinating and has a lot of original elements to it. You have to take your time with it to really savor every minute of it but it's worth every minute.