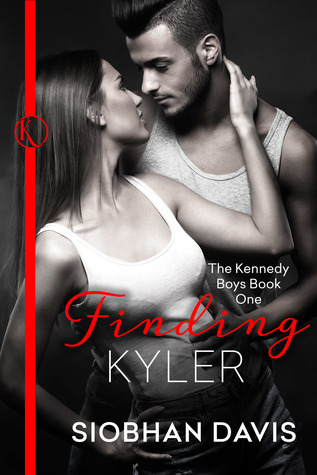 Title: Finding Kyler
Author: Siobhan Davis
Series: The Kennedy Boys #1
Genres: Romance, NA, Contemporary
❖ Add to Goodreads ❖
Two fractured hearts and a forbidden love they can't deny. You shouldn't want what you can't have… Faye Donovan has lost everything. After her parent's tragic death, she's whisked away from her home in Ireland when an unknown uncle surfaces as her new guardian. Dropped smack-dab into the All-American dream, Faye should feel grateful. Except living with her wealthy uncle, his fashion-empire-owning wife, and their seven screwed-up sons is quickly turning into a nightmare—especially when certain inappropriate feelings arise. Kyler Kennedy makes her head hurt and her heart race, but he's her cousin. He's off limits. And he's not exactly welcoming—Kyler is ignorant, moody, and downright cruel at times—but Faye sees behind the mask he wears, recognizing a kindred spirit. Kyler has sworn off girls, yet Faye gets under his skin. The more he pushes her away, the more he's drawn to her, but acting on those feelings risks a crap-ton of prejudice, and any whiff of scandal could damage the precious Kennedy brand. Concealing their feelings seems like the only choice. But when everyone has something to hide, a secret is a very dangerous thing.
My Thoughts
Lately I'm a bit reluctant to try books from new to me authors for one because I have already a lot of books on my shelves to get new ones and secondly because it's harder and harder to weed out the great books from the not so great. Yet, I decided to take a chance with this because I liked the synopsis and I usually enjoy books where one girl somehow falls into the midst of a quite a big group of guys mostly brothers. I just like the atmosphere they get.
Faye is a great main character. She is sassy, funny and can take care of herself. She has a witty comeback for everything but also has an understanding and level minded personality. Her obsession and kind of troubling attraction toward Kyler is a bit off putting. Don't get me wrong their chemistry is amazing and the tension between them lights the pages but this cousin thing just really bothered me. I will be honest during the whole book I just been hoping so much that it turns out it's a mistake or that there is no real blood relation between them unfortunately I also had a boding feeling about some secrets from the very beginning and let me just say that their situation just got worst at the end.
Kyler is really intense, troubled and a little misguided thanks to his upbringing and the life he lived so far. But strangely when he gets out of the circle of his family influence and pushes of the weight they put on him he changes into a more tender personality and shows his down to earth side. He is hot and cold through the whole story.
I have a kindle edition and at the beginning of the book there are little pictures with all of the boys, their names and ages. I usually don't like when they provide a visual for how the characters should look like but at this instant I liked it because it help with memorizing them. I liked them and the dynamism Faye created with them after the little squabbles in the beginning but most of them stays in the background and only mentioned in passing. I liked Kalvin the best, he is funny and caring they have some hilarious scenes with Faye. But behind the pretense and façades they show the Kennedy family is a pretty dysfunctional and messed up little unit.
Let's see plot wise: take a teen TV drama and put it on crack and you just got the story of this book. There are secrets upon secrets, everybody is hiding something, all of them have deep scars and some kind of trouble in their life. And every little thing is so overdramatized that it hurts. For example the thing going on with their eyes, gazes. They practically communicate with it through pages. I just found those little situations so funny. Not to mention the painfully awkward situations Faye just finds herself in. I usually don't like things like this but I laughed a lot on this story and kept me engaged the whole way. There was not one boring minute in the book and I enjoyed it a lot.
This book took me back to my early teens when I watched a lot of TV shows with similar contest. It's funny, fast paced and eventful. The writing style is really clean and expressing. I just couldn't put it down despite my problem with the whole cousins thingy and really looking for the next book. For one I'm hoping for a happier outcome for Faye and Kyler and also a lot of things left unsettled, open at the end. A lot of secrets and lies are yet to play out.