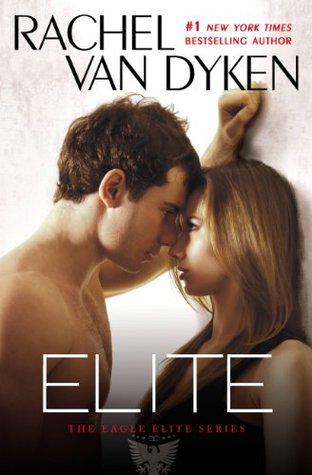 Title: Elite
Author: Rachel Van Dyken
Series: Eagle Elite #1
Genres: NA, Romance, Contemporary, Mafia, Suspense, Mystery
❖ Add to Goodreads ❖
For Tracey Rooks, life with her grandparents on a Wyoming farm has always been simple. But after her grandmother's death, Tracey is all her grandfather has. So when Eagle Elite University announces its annual scholarship lottery, Tracey jumps at the opportunity to secure their future and enters. She isn't expecting much-but then she wins. And life as she knows it will never be same… The students at Eagle Elite are unlike any she's ever met… and they refuse to make things easy for her. There's Nixon, gorgeous, irresistible, and leader of a group that everyone fears: The Elect. Their rules are simple. 1. Do not touch The Elect. 2. Do not look at The Elect. 3. Do not speak to The Elect. No matter how hard she tries to stay away, The Elect are always around her and it isn't long until she finds out the reason why they keep their friends close and their enemies even closer. She just didn't realize she was the enemy — until it was too late.
My Thoughts
Let me start with the obvious. This right here is not a recent review. I wrote it in back in 2014 but never got around to post it anywhere. Recently I was cleaning my desk and found it lying around. Since lately because of my school work and exams I didn't really have time to read so I decided to post this now.
Truthfully the blurb doesn't tell much about the book but I had some pretty good experiences with the author other works so I went into this without any kind of preservation. I just knew that it's going to be great.
My initial opinion about the book was mixed. I just didn't know what to think about it. The first quarter of the book is really unsympathetic for me. I'm quite a critique with books about bulling or more like harassment especially when the only reason it's happening is the bully's boredom and his/her superiority complex (not that there is a good reason behind bullying). But then I found a sentence in the book what got my interest. This particular sentence, if I remember correctly, appeared in one of my favorite Korean drama too almost word to word like in the book. But this phrase not only reminded me of this TV drama but also foreshadowed what to expect to come in the story, too. Which also means that after this and a couple of other little hint the plot became quite predictable nonetheless from this point on I enjoyed the book very much. At the end I got an exciting and eventful tale.
As of the characters, Tracy the protagonist wasn't my favorite. She just doesn't fit into the story and she is more naive than necessary. Not to mention how she could fall head over heels with Nixon after what the boy did to her. There are a lot of instances where the author tries to present her as a strong and unshakable in my opinion she is gauche and nothing else. She is kind, sheltered and like the sheep in the wolf den.
Then there is Nixon who went through a lot despite his young age, thanks to this he became someone really strong and determined. But he has a really, really distorted sense of justice. The way he ruled the school and the students, the things he did to them for their sake of course. Yeah, it's a funny way to look at his actions. He lives in a completely different world than most of the student body does. Still this story perfectly shows how two people from different sides can adapt to each other expectations if they really try and want it.
The story is told from dual point of view (Tracy or Nixon) but the we don't get to know to much about the school or the background because the whole storyline is really tightly focused on only the lives of the elite group. What I didn't like one bit is the forming love triangle at the end of the story. There is more than enough conflict and possibility in the book without adding to it.
Overall it's a great book and I enjoyed it. The writing style is phenomenal and flowing. It's easy to read and the plot is not stuffy and has an interesting topic.