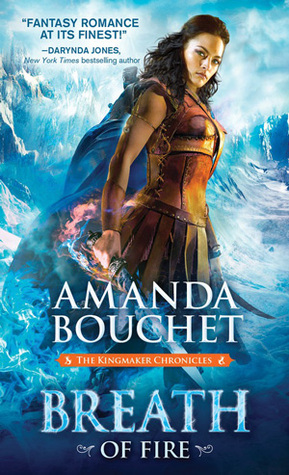 SHE'S DESTINED TO DESTROY THE WORLD… "Cat" Catalia Fisa has been running from her destiny since she could crawl. But now, her newfound loved ones are caught between the shadow of Cat's tortured past and the threat of her world-shattering future. So what's a girl to do when she knows it's her fate to be the harbinger of doom? Everything in her power. BUT NOT IF SHE CAN HELP IT Griffin knows Cat is destined to change the world-for the better. As the realms are descending into all-out war, Cat and Griffin must embrace their fate together. Gods willing, they will emerge side-by-side in the heart of their future kingdom…or not at all.
RATING

I received an ARC copy of this book from NetGalley in exchange of an honest review.
I absolutely loved the first book in the series which actually helped me get out of a horrible book slump. So when I got the chance to read an ARC copy of this book I was really happy and devoured it as soon as I got it.
As I mentioned at the end of my review of A Promise of fire in this book I expected a bit more excitement and action due to things we get to know in the first installment. And boy does this book starts with a Bang!. Right after reading the first couple of pages I prepared myself for an emotionally taxing read and I panicked a bit. But luckily my panic was quickly dissolved because our heroes successfully solved their disagreement in a couple of chapters.
The plot is so much more eventful and exciting, there is constant action in it and I loved it. The story flows effortlessly and the author writing style provides an airy atmosphere. The characters change a lot during the story some in a good direction some not so much.
In the beginning we can see a side of Cat she doesn't show too much, her emotional part and it's really interesting how she handles them but at the end she just becomes numb because she can't afford to lose it. After the emotional trauma gets out of the way she more or less returns to her usual self. However she loses some of her sarcastic edge but gets more powerful. Instead she takes up a sometimes lovey-dovey and a bit more insecure personality. She also has a really hard time to accept the responsibility that comes with her newfound status and takes a lot of unnecessary and dangerous risk. She would have died numerous times and really tenth of her plans wouldn't have worked out if not for the gods. Also what I found interesting and quite ingenious from the author that a couple of times the little girl who wants nothing more than some recognition from her mother rears her head in Cat. This makes her character so much more realistic.
Griffin changes too. First of all in my opinion he gets a darker and rasher side unlike his noble and temperate personality in the first book. Also he gets so much more obsessive towards Cat. The relationship between them progresses leaps in the story. And here comes one of the things I didn't like much about the book. I am the first one to admit that I need some romance with my fantasy and in this case I got it in heaps. And really I can say even too much of it. The romance is more sexual and intimate but not exactly in the good way. There is too much sex (chapters long) in the worst possible places in the plot. This really outbalanced the story for me. They are constantly going at each other and it breaks up the momentum of the events.
What I also missed is the humor and camaraderie between the members of the Beta team. It's still there but not so preset than in the first book maybe because most of the time Cat has to conquer their obstacles alone.
I have some problems with the plot to mainly the characters bold and unfounded plans for world domination. Really they just run into everything and succeed only by luck. But I like that there is more action in it and especially that there are still a lot of new information about the world building. Regarding that the author has a lot of interesting and original idea and the more I know about it the more curious I get. I think that the way she incorporated the Greek mythology into her word is fantastic.
I found some of the fight scenes around the end a bit hectic and hard to follow and the final conclusion is a bit abrupt but the new information and the character development completely outshines these little hiccups. Most of the questions I had after reading the first book got answered in this one but there are a bunch of new ones. I absolutely adored the story and can't wait for the next book in the series.