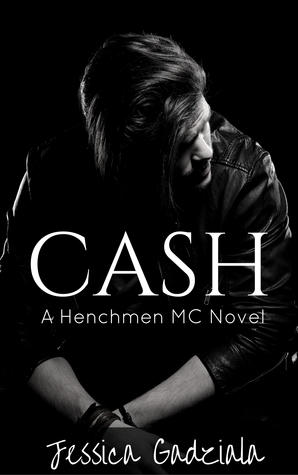 The Henchmen return, this time with CASH as our leading man. CASH: My life has been about three things- brotherhood, good times, and women. Easy. Nothing complicated. That was until Willow Swift came barging back into my life, face bloodied, banging at the gates of The Henchmen compound calling in a favor owed. Now a marker is a marker and I had to make good, but if there was one woman in the world I didn't need in my life, it was the hard-as-stone, hot-as-sin Willow Swift and whatever mysterious ghosts from her past that were haunting her present. WILLOW: My life has been nothing but two things: hard and complicated. The last person I wanted in my business was the notorious love-em and leave-em Cash, but I needed help and he was the only one I could lean on without worrying about him finding out about my past. But I was starting to wonder if maybe he was his own kind of dangerous bent on tearing down some things I had long since learned were not possible for me- like falling for a guy I could not, ever, let see the real me.
RATING

Unfortunatley I knew that I wont like this story as much as I did with the first installement. Why? For one this is about Cash, and usually my favorite characters and lhe laid back jolly ones end up with bitches. And also I kind of hated Lo int he first book. In Reign Lo is portrayed as a crazy badass leader with decidedlydubious morality, but i n this book it turns out that all of that just a mak, a facade and she really is a naiv, insecure, kind of helpless and a dreamer. Shes has people who does her dirty work but don't see her doing anything felt like she is just the figurhead int he organization. And also she has a really nasty demanour toward Cash, it times disgutingly so. So she was even worst than I firts thought. i tried to shimpatize with her because of her past but I couldnt, her actions made it impossible.
Cash I still like, even more since he howed a kind of respect toward all woman that no womanizer heroe I read ever did before. His infatuation with Lo was a bit annoying but what can a man in love do.
My other huge problem with this book was that there is not an actual story, the whole time I read about the to character having foreplaye then lo degrading Cash then havin sex, without chamistre then rines and repaet. The few littly possibilites were solved outside there bubble, alas most of it we just head about. I missed the story. Almost everything happend behind the scenes.
So yeah Im dissapointed in it, and I'm afraid to read Wolf story because it was playing out the same time than this one and a lot of snippets was already reveald in here. I dont like those kind of stories. Hovewer Jessica Gadziala got on my must by list.