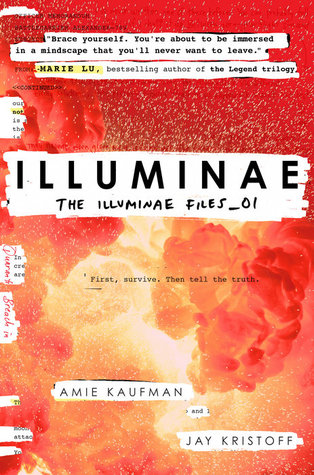 This morning, Kady thought breaking up with Ezra was the hardest thing she'd have to do. This afternoon, her planet was invaded. The year is 2575, and two rival megacorporations are at war over a planet that's little more than an ice-covered speck at the edge of the universe. Too bad nobody thought to warn the people living on it. With enemy fire raining down on them, Kady and Ezra—who are barely even talking to each other—are forced to fight their way onto an evacuating fleet, with an enemy warship in hot pursuit. But their problems are just getting started. A deadly plague has broken out and is mutating, with terrifying results; the fleet's AI, which should be protecting them, may actually be their enemy; and nobody in charge will say what's really going on. As Kady hacks into a tangled web of data to find the truth, it's clear only one person can help her bring it all to light: the ex-boyfriend she swore she'd never speak to again. Told through a fascinating dossier of hacked documents—including emails, schematics, military files, IMs, medical reports, interviews, and more—Illuminae is the first book in a heart-stopping, high-octane trilogy about lives interrupted, the price of truth, and the courage of everyday heroes.
RATING

Originally this book was nowhere near on my TBR list, somehow these kinds of sci-fi stories doesn't really appeal to me. However after watching a couple of video blogs about it and hype around this book I decided to give it a try.
So let's start with the obvious, the format. Just glancing at the book, the beautiful, colorful cover and the different fonts on it. OMG! It's so inviting, who can resist it really? And then you open the book and come face to face with something entirely different and original. I absolutely loved how the book was written, constructed. I think it is a genius idea to not just tell the story but let the reader to put it together from a lot of different clues. The book kind of engages the reader, like an interactive story. Naturally it's just an illusion because there is only one direction you can go but I still felt like I was investigating the events during reading.
The variety of angles, the way we see the plot unfold is amazing and an entertaining experience. One of my favorite things about Illuminae was the format, the structure of it. Oh, I had my problems with it, too there is no question. For example there are pages where the sentences are arranged in different patterns, curving lines with miniscule lettering. It is beautiful but I felt those pages were unnecessary and practically impossible to read. I couldn't follow them.
Let's get to the story itself. Honestly I can say a lot of things about it, expect beautiful. For me it was interesting, scary, thrilling, creepy, confusing, complicated and complex with a lot of twist but never really beautiful. It felt more like a horror movie than a young adult story. Ad I mentioned earlier these space ship, futuristic sci-fi stories are not my favorites, I enjoyed it but without the unique structure I wouldn't gave it a 4 because the base of the plot is nothing special. Just an ok, one tike read for me.
Our main characters, Kady and Ezra exhibit quite an opposite reactions to their predicament at least in the beginning. They are like two sides of a coin. Kady is against authority with every fiber of her being where Ezra is more of a stickler for rules but he is not as extremist as the girl. I don't know I liked Ezra, he is a funny, caring guy but we don't really get to know him deeply. He felt more like a supportive character or in time even as an unnecessary one.
Kady in the beginning is a skeptic troublemaker, emotionless and seems cold but she only acts like this because she doesn't want to break down. She is also very brave, and smart. She tries to uncover the truth and reveal it to everybody without thinking of the consequences. However toward the end of the story her emotions win over the logical thinking she starts to act more recklessly.
And then there is AIDEN the AI. We can see lot of the events from 'his' point of view. It starts out quite fantastically how the computer emotionless purely logical thinking affects the event, although it changes tunes for some reason and the AI starts to exhibit human emotions. I think it's a brilliant touch to write his data stream in such a poetic, lyric way.
Overall I liked the book, but it won't be my favorite anytime soon. I'm gonna read the next installment in the series out of curiosity. However if you like this genre then this book is definitely a winner.